Details
Cervantes is a porphyry gold-copper-molybdenum prospect located 160.0 km east of Hermosillo, Sonora, Mexico. It is well located within the Laramide porphyry belt approximately 265.0 km southeast of the huge Cananea porphyry copper-molybdenum mine of IMMSA and 55.0 km west of the Mulatos epithermal gold mine of Alamos. This 497 hectare property is situated on private ranch lands accessed via dirt road from the town of Tonichi.

Aztec's current CAD$182,000 Phase 2 exploration program of geological mapping, rock, soil and sediment sampling and airborne magnetic and radiometric surveys is focused on better defining additional drill targets on the recently expanded (3,649 hectares) Cervantes property.

Results of the Phase 1 Drill program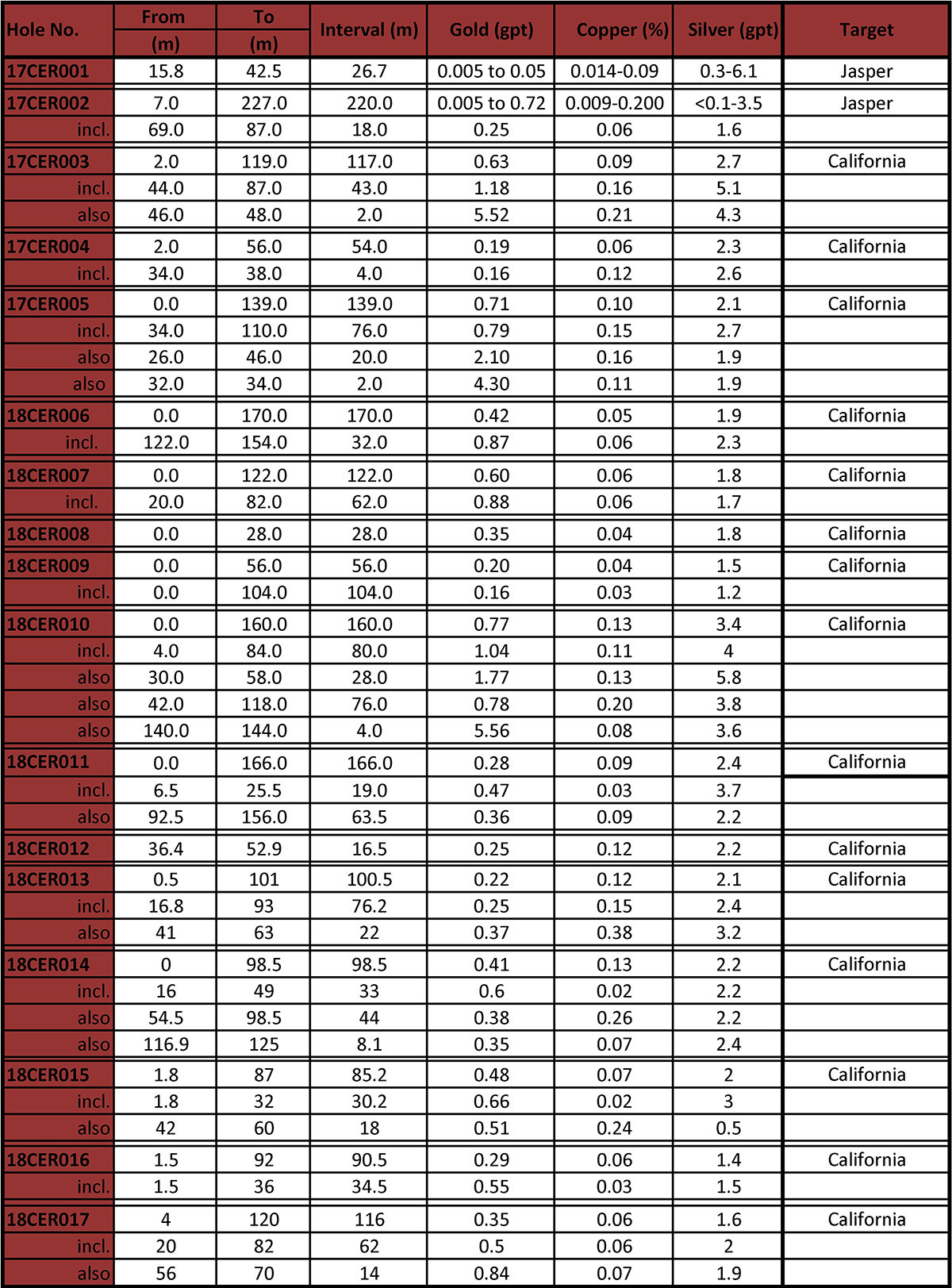 Every hole in the Phase 1 drill program intersected porphyry-type gold-copper-silver mineralization, and most holes collared in outcropping mineralization. Ignoring the abandoned holes CER1, 8 and 12, over half the holes at the California prospect intersected robust 100+ meter widths of higher grade mineralization exceeding 0.4 gpt gold, spanning an 800 meter length and a 200 meter breadth, to a maximum vertical depth of 150 meters.

The California mineralized zone remains open for expansion along strike, across the breadth and down plunge, where a large, strong IP chargeability remains to be tested by a Phase 2 drill program. A variety of mineralized breccias and quartz feldspar porphyry host rocks exhibiting intense alteration continue to represent a dynamic and pervasive style of high level porphyry mineralization for further drilling.

Back in September, 2016, a 12.8km pole-dipole IP geophysical survey was completed over 180 hectares covering portions of the California soil anomaly and the Jasper prospect. Strong chargeability anomalies starting from the surface to depths of at least 600m were outlined with values ranging from 5 to 80mrads and averaging 40-50mrads. Such broad, strong chargeability anomalies are often associated with large zones of disseminated sulfide mineralization typical of porphyry copper deposits.